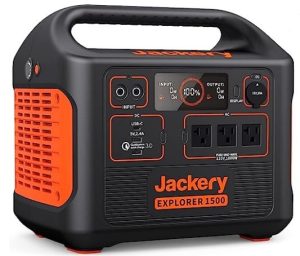 Unleash Limitless Power with the Jackery Explorer 1500: Your Ultimate Portable Power Station
Are you ready to take your outdoor adventures to the next level? Enter the Jackery Explorer 1500, a true powerhouse among portable power stations. In this comprehensive review, we'll delve deep into the world of portable power with the Jackery 1500. Whether you're an outdoor enthusiast, an emergency preparedness pro, or a mobile entrepreneur, this versatile and robust power station is designed to meet all your energy needs. We'll also explore how the Jackery 1500 compares to its sibling, the Jackery 1500 Pro, and its predecessor, the Jackery 1000.
The Jackery Explorer 1500: Unveiling a Game-Changer
The Heart of Your Power Universe
Imagine having a compact and portable energy hub that allows you to power your devices and appliances wherever you go. The Jackery Explorer 1500 Portable Power Station is engineered to provide a seamless and reliable power source in a sleek and user-friendly package. Whether you're camping in the wilderness, tailgating at your favorite game, or facing an unexpected power outage, the Jackery 1500 is your trusted companion.
Key Features at a Glance
Massive Capacity: With a 1488Wh capacity (that's approximately 405,000mAh), the Jackery 1500 can keep your devices and appliances running for extended periods.
Versatile Outputs: Equipped with a variety of ports, including multiple AC outlets, USB-A and USB-C ports, and even a 12V carport, you can charge everything from smartphones to laptops, mini-fridges to power tools.
Solar-Ready: Harness the power of the sun by connecting compatible solar panels to the 8mm input port and stay off-grid indefinitely.
Pure Sine Wave Inverter: The built-in inverter provides clean and stable energy, making it safe for sensitive electronics like laptops and CPAP machines.
User-Friendly Display: The informative LCD screen displays real-time input/output data, battery status, and more.
Portability Redefined: Despite its colossal capacity, the Jackery 1500 remains relatively lightweight and boasts a comfortable carry handle for easy transport.
Jackery Explorer 1500 Review: Fueling Your Adventures
Design and Build Quality
At first glance, the Jackery Explorer 1500 impresses with its sleek and modern design. The durable, high-strength plastic shell, wrapped in a striking orange accent, exudes rugged elegance. Its robust build ensures it can withstand the demands of outdoor use while still looking stylish on your patio.
Power to Spare
The Jackery 1500 isn't just about looks; it's a workhorse when it comes to power. With its 1488Wh capacity, this portable power station can charge a smartphone over 100 times, keep a mini-fridge running for up to 35 hours, or power a 15W light for an incredible 99 hours. It's your lifeline when you're off the grid, providing peace of mind during extended camping trips or emergency situations.
Multiple Charging Options
One of the standout features of the Jackery Explorer 1500 is its versatility in charging options. You'll find three standard AC outlets, offering 110V, 1000W continuous power and a whopping 2000W surge capacity. These outlets can handle everything from laptops to power tools with ease.
For your USB-powered devices, the Jackery 1500 has you covered with multiple USB-A and USB-C ports. Whether you're charging smartphones, tablets, or drones, the power station adapts to your needs.
The inclusion of a 12V carport provides an additional layer of convenience, perfect for topping up your car's battery or powering 12V appliances while on the go.
Solar-Ready for Extended Adventures
If you're planning an extended outdoor stay or need a reliable backup power source, the Jackery 1500's solar compatibility is a game-changer. By connecting compatible solar panels to the 8mm input port, you can harness the sun's energy to keep your devices charged. This feature is a testament to Jackery's commitment to sustainable, eco-friendly power solutions.
Pure Sine Wave Inverter: Clean Power for Sensitive Devices
The Jackery Explorer 1500 is equipped with a pure sine wave inverter, a vital feature for anyone using sensitive electronics. Unlike modified sine wave inverters, a pure sine wave inverter provides clean and stable power, ensuring that your laptops, medical devices, and other sensitive equipment operate flawlessly without risk.
User-Friendly Display
Monitoring your power usage and the status of the Jackery 1500 is a breeze, thanks to the informative LCD screen. The display provides real-time data on input and output wattage, remaining battery capacity, and estimated runtime. This invaluable information helps you manage your energy needs effectively, preventing unexpected power shortages.
Jackery 1500 vs. Jackery 1500 Pro: What Sets Them Apart?
The Jackery 1500 and Jackery 1500 Pro are both portable power stations with a capacity of 1512Wh. However, there are some key differences between the two models.
Jackery 1500
7 outputs: 3 AC outlets, 2 USB-A ports, 1 USB-C port, 1 car outlet
400W solar input
800 cycle lifespan
2-year warranty
Jackery 1500 Pro
8 outputs: 3 AC outlets, 2 USB-A ports, 2 USB-C ports, 1 car outlet
600W solar input
2000 cycle lifespan
5-year warranty
As you can see, the Jackery 1500 Pro has several advantages over the standard Jackery 1500. It has one more output, a higher solar input, a longer cycle lifespan, and a longer warranty.
The Jackery 1500 Pro is also slightly lighter and more compact than the standard Jackery 1500. It weighs 37.5 pounds compared to 38.6 pounds, and it measures 356 x 280 x 193 mm compared to 384 x 280 x 193 mm.
Which one is right for you?
If you are looking for a portable power station with the highest possible performance and features, then the Jackery 1500 Pro is the better choice. However, it is also more expensive than the standard Jackery 1500.
If you are on a budget, or if you do not need the extra features of the Jackery 1500 Pro, then the standard Jackery 1500 is still a great option. It is a powerful and reliable portable power station that can meet the needs of most users.
Ultimately, the best way to decide which Jackery 1500 model is right for you is to consider your individual needs and budget.
Jackery Explorer 1500 vs. Jackery 1000: An Upgrade Worth Considering
When considering the Jackery Explorer 1500 vs. Jackery 1000, the advantages of the 1500 are evident. With a significantly larger capacity and more output options, the Jackery 1500 excels in terms of versatility and runtime. While the Jackery 1000 is a reliable option for moderate power needs, the 1500 takes it up a notch, making it suitable for a wider range of applications.
Is the Jackery Explorer 1500 Your Ultimate Power Solution?
In a world where reliable power is essential for both everyday life and outdoor adventures, the Jackery Explorer 1500 Portable Power Station shines as a beacon of innovation. Its massive capacity, versatile outputs, and solar compatibility make it a top choice for those who refuse to be tied down by traditional power sources. Whether you're embracing the great outdoors or preparing for unexpected outages, the Jackery 1500 has your back. Join the Jackery family and unlock limitless power possibilities today.
Here are my insights from my Jackery 1500 experience:
Output: 1800 running watts, 3600 surge watts. This means it can provide 1800 watts continuously and handle surges up to 3600 watts.
Capacity: 1488 watt-hours. This is the total energy storage capacity.
Weight: 35 lbs or 14 kg.
Recharge Time:
With 4 x 100W solar panels in full sun: 3.2 hours
With AC outlet: 4-5 hours
With car outlet: 13 hours
Features:
1. LCD display shows power input/output
2. Flashlight built in
3. Can charge devices directly via USB ports
4. Pass-through charging (can charge while plugged into the wall)
Battery Life: Estimated at 800 charge cycles while maintaining 80% of original capacity. This equals about 8 years of life.
Noise Level: Fan noise is 56 dB, about the same as a refrigerator. Ramps up to 75 dB when close to full capacity.
Accessories: Comes with car charge cable and AC adapter. Optional solar panel upgrade recommended for off-grid power.
Car Charging: Not very fast. Charged at ~260W in truck which took 7+ hours.
Solar Charging: With 4 x 100W panels, charged at 340W peak in full sun for 3.2 hour charge time. Partial shade reduces output significantly.
My Observations
The 8mm input for solar panels is proprietary, meant to ensure compatibility with Jackery's own panels. This could make it harder to use third-party panels.
The solar panels have built-in USB ports and kickstands for convenience.
The LCD display simplifies usage by showing remaining runtime.
User Experience
Overall positive experience. Found it easy to use and set up.
Like the portable and lightweight solar panels.
Display and remaining runtime indicator were useful features.
Noise level was reasonable.
Car charging was slow and inefficient.
Optimal Situations for Using the Jackery 1500
Emergency power during grid failures or natural disasters.
Off-grid camping and overlanding.
As a backup generator for RVs.
On-the-go power source for outdoor activities.
Additional Observations
Priced competitively compared to similar models like EcoFlow and Bluetti.
Lacks expandable capacity unlike some competitors.
Solar panel output drops dramatically if even 1 cell is shaded, due to way the cells are wired.
Capacity, output, and features are typical for this product class.
Quality seems comparable to major competitors.
Simple "plug-and-play" system good for beginners.