The Jackery Explorer 1000 Portable Power Station
Is the Jackery Explorer 1000 the best solar generator/power station?
When Jackery introduced the Explorer 1000, I was among those who exclaimed, "Finally, a Jackery power station with USB C and an MPPT charge controller!"
Other brands had released power stations, also known as solar generators, with these features, so it was no surprise that Jackery included them in their newest portable battery as well.
But a power station is more than a USB C port and an MPPT charge controller; how does it compare to the competition, and what strengths and weaknesses does it have?
That's what we'll discover in this comprehensive review of the Jackery Explorer 1000.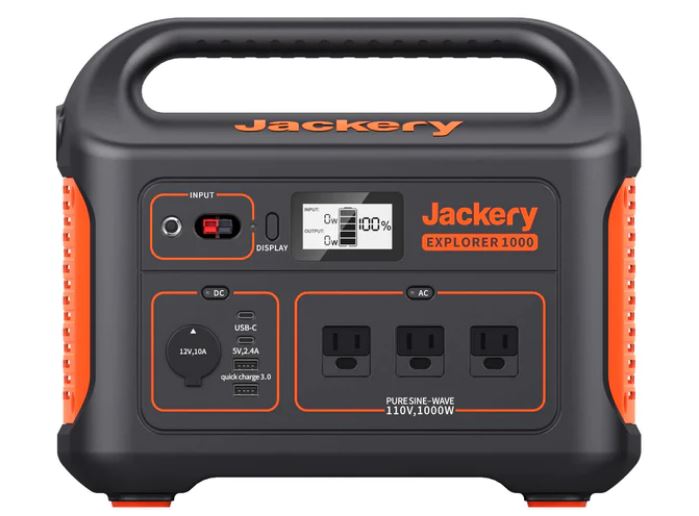 Go Camping (or Anywhere) With The Jackery Explorer 1000 Portable Power Station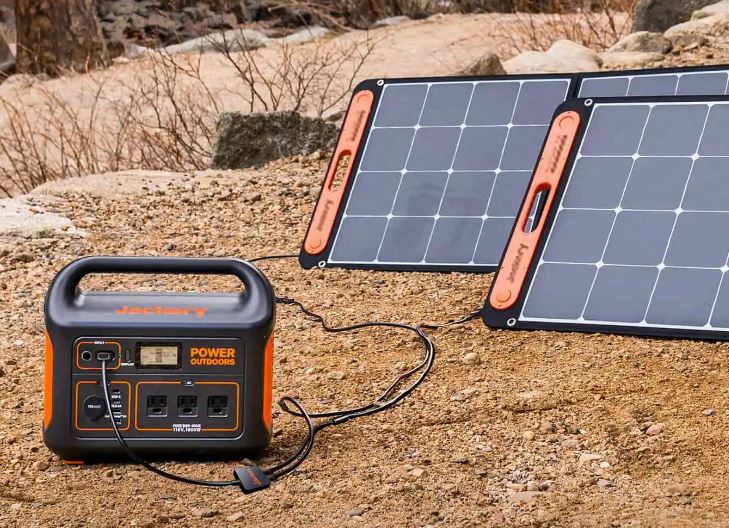 What Is a Solar Generator/Power Station?
A portable power station, also known as a solar generator, is an all-in-one box that contains a battery, an inverter, a charge controller, and a few other components.
The battery is used to store electricity, and its capacity is usually specified in watt-hours.
For example, 100 watt-hours means that a device can run at 100 watts for one hour. The Explorer 1000 has a capacity of 1002 watt-hours.
The inverter converts the 12V DC battery power to 110V AC power, allowing you to plug devices, appliances, and chargers into the power station that you would normally plug into your home's wall outlets.
To recharge the battery, the charge controller allows you to connect solar panels directly to the power station's input port.
You should not connect a solar panel with an external charge controller because the charge controller is built-in.
The same port that the solar panels are plugged into is also used for the wall and car charger.
You can also recharge a power station with a regular gas generator, in which case the wall charger is used.
Who Is The Explorer 1000 Intended For?
Portable power stations have become an essential utility in our lives as someone who travels full-time and spends the majority of his time camping out in the boonies far from hookups and the grid.
My wife and I both work full-time online, so we need to be able to charge our laptops, coffee maker, various chargers, and TV at night.
We could start the generator in the morning and leave it running all day, but not only would we have to fill it up and buy gas several times a week, but the noise would drive us insane.
When camping or in an emergency, the Jackery Explorer 1000 keeps your devices powered and charged. A portable power station/solar generator like the Explorer 1000 is ideal for us.
When we arrive at a campsite, no matter where we are, all we have to do is set up the solar panels outside, connect the cables, and the battery will begin charging.
When we need to charge our laptops or make a cup of coffee, we simply turn on the inverter inside the Explorer 1000, and it is ready to charge or power our devices.
The power station has a fan that runs to keep the inverter cool, but it's not nearly as loud as a gas generator.
The Jackery Explorer 1000 Review
Now that we've covered the fundamentals of power plants, let's get into our Explorer 1000 review.
Capacity of the battery
The battery capacity of the Explorer 1000 is 1002 watt-hours.
When you consider the inverter efficiency (85%), you can power a 100W device for about 8.5 hours.
Inverter
The Explorer 1000's pure sine wave inverter can continuously output up to 1000W.
This makes it powerful enough to run small coffee makers, space heaters, electric grills/toasters, pressure cookers, blenders, and other kitchen appliances.
TVs, gaming consoles, desktop computers, fans, portable fridges/freezers, and home theaters can all be powered by 1000W.
A 1000W inverter can power everything in an RV except the AC and microwave.
It is not strong enough to run air conditioners, large space heaters, or microwaves.
If you're an RVer, you can use an adapter to connect your entire RV or camper to the Explorer 1000.
We use a 15A to 30A adapter to connect our 30A travel trailer to the Jackery.
When plugged in, the Explorer 1000 charges our trailer batteries and maintains power to the outlets, allowing us to watch TV and charge our laptops as if we were connected to shore power.
Everything except the microwave and air conditioner can be powered by it.
Ports
The Explorer 1000 has numerous ports that can be used to power multiple devices at the same time.
To begin, the 1000W inverter powers the three alternating current outlets.
It should be noted that these can only output 1000W when used together, not individually. Because it is a pure sine wave inverter, it can safely power sensitive electronics.
In addition to the AC outlets, there are various types of DC ports. Two USB A, two USB C, and a regulated 12V output are included.
One USB A port is a 3.0 quick charge port, and the other is a regular USB A 12W port.
The USB C ports have a maximum output power of 15W, and the 12V port has a maximum output power of 120W. (10A).
One of the USB C ports (the top one) is a USB C PD port, which means it can charge newer laptops that support USB C PD charging, albeit slowly.
The Jackery Explorer 1000 portable power station has a 12 volt regulated outlet. You can charge multiple devices at once thanks to multiple USB A/C ports and a regulated 12V output. Because the 12V output is regulated, it is safe to use even when the battery is running low to power 12V fridge/freezers.
There are two buttons above the AC and DC ports to turn them on and off.
If you aren't using any of the outlets, keep the ports turned off to avoid wasting electricity.
In addition to the DC ports, there are two input ports located above them. There are two ports: one 8mm and one Anderson. You'll connect your SolarSaga panel to the 8mm port. If you have two SolarSaga 100W panels, use the 8mm to Anderson combiner cable that Jackery includes with the Explorer 1000 to connect them to the Anderson port.
When two solar panels are combined, they charge the battery much faster than a single panel. The 8mm port is also used to charge the battery, which comes with a wall and car charger.
Capabilities for Charging/Solar
The Explorer 1000 recharges in about 7 hours using the included wall charger (163W). Because you'll be using the same wall charger, that's also how long it takes to charge it with a gas generator.
It takes about 14 hours to charge using the included car charger (80W) and 17 hours to charge using a single 100W solar panel. It only takes 8 hours with two 100W panels.
You can stay outside for longer/forever if you recharge the battery with solar panels. Only one charging port can be used at a time, and the wall charger is the fastest way to charge the battery.
Despite having an MPPT charge controller, the maximum input from one or more 12V solar panels is 126W.
The Display
The Explorer 1000's front-facing screen displays input and output watts. It also displays the battery percentage and battery bars, allowing you to easily monitor the battery level.
A button next to the small monitor activates the backlight, making it easier to read the display.
When the battery reaches 20% and 10%, the screen begins to blink as a warning that the battery is nearing the end of its life.
Other
While the battery is charging, you can use all of the output ports.
The built-in handle on top is not foldable, but it makes transporting and carrying the power station easier.
The Jackery Explorer 1000 measures 13.1 by 9.2 by 11.1 inches and weighs 22 pounds.
It is not permitted on airplanes because its battery capacity exceeds 99Wh.
A flashlight is built into the side of the body. It is activated by a button next to the light and can be set to be on, off, or in an SOS mode where it flashes.
Within The Box
Jackery comes with a wall charger, a car charger, a SolarSaga Y Parallel cable for connecting two Jackery 100W panels, and an instruction manual.
What I like about ports is that there are a lot of them.
Some power stations don't have enough ports, and I believe Jackery is aware of this because the Explorer 1000 has a large number of ports.
It's compatible with a wide range of devices and solar panels thanks to three AC outlets, two USB C, two USB A, one 12V port, and two different input ports.
I especially like that it has three AC outlets, which eliminates the need for a power strip to power multiple 110V devices.
My wife and I can now use our laptops while also connecting a portable fan, for example.
It may not seem like much, but if you deal with the power station on a daily basis, the constant plugging in and unplugging of cables becomes inconvenient.
Charge Controller with MPPT
The battery will charge faster, more efficiently, and in adverse conditions with an MPPT charge controller.
I'm glad Jackery chose to include an MPPT charge controller in the Explorer 1000 to make it a strong competitor to the market's alternative power stations/solar generators.
The Display
After relying on portable power stations for over a year, I've decided that they must have a battery percentage, so thank you Jackery for including that on the Explorer 1000's screen.
It's much more usable and reliable to have an exact percentage (even if it's not 100% accurate on some power stations) because it allows you to track the battery level while charging and discharging.
But the screen doesn't just show a battery percentage; it also shows battery bars, which may raise some eyebrows as to why it's necessary when there's a percentage, but I've discovered a reason why having both is beneficial.
The battery percentage is displayed on the Jackery Explorer 1000's screen.
The screen on the Jackery Explorer 1000 is nearly flawless.
If you're sitting far enough away from the power station that the percentage is difficult to read, the battery bars are often easier to read, so you can still get an estimate of how much battery is left. It's a minor point, but it's nice to have both.
Last but not least, the screen displays the input and output watts, which is another requirement for a power station of this type.
It allows you to monitor how well your solar panels are performing, how much electricity your electronics are consuming, and it makes it simple to calculate how long you will be able to power your devices.
It is capable of powering a coffee maker.
Because not all power stations are created equal, I prefer those that can power a coffee maker.
I have a small and portable Black+Decker coffee maker that uses 500-600W and works perfectly with the Explorer 1000's 1000W inverter.
The Jackery Explorer 1000 ensures that you get your daily coffee fix.
12V Regulated Output
A regulated 12V output will provide a constant voltage that is unaffected by battery level until the battery is completely depleted.
A low-voltage cut-off is a common feature on portable 12V fridge/freezers that shuts the appliance off when it detects a voltage that is too low to run the fridge/freezer safely without risk of damage.
As a result, an unregulated 12V output is not a good source of power for these appliances.
However, a regulated 12V output, such as that found on the Explorer 1000 (and Jackery's other power stations), is an excellent source that will keep it powered safely.
A regulated 12V output is, in my opinion, a must-have on a portable power station in 2020, as they're frequently used by travelers with a portable 12V fridge, so Jackery has done an excellent job here.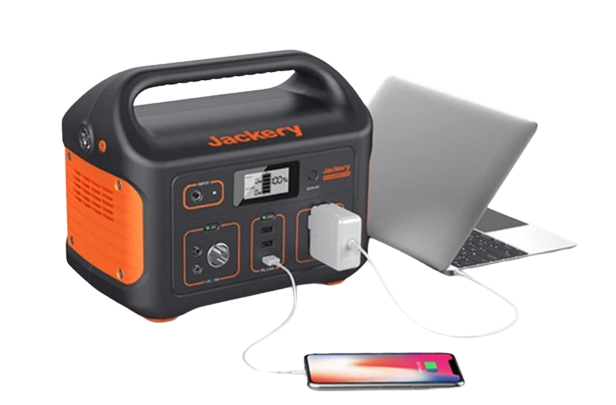 Go Camping (or Anywhere) With The Jackery Explorer 1000 Power Station
Portable
The Explorer 1000 weighs only 22 pounds and comes with 1002 watt-hours and a 1000W inverter.
In comparison, the Goal Zero Yeti 1000 weighs 40 pounds and has a battery capacity of 1045 watt-hours and a 1500W inverter.
Is it worth the extra 18 pounds for the 500W inverter? That is entirely up to you.
In my opinion, the portability of the Jackery Explorer 1000 is one of its main selling points, and if you don't require more than a 1000W inverter, it's possibly the best one on the market in terms of portability.
What is Included with the Jackery 1000?
Jackery includes both a wall charger and a car charger. This is not something that every manufacturer offers.
They also include an 8mm to Anderson combiner so that two SolarSaga 100W solar panels can be combined to charge the battery faster.
Things I Don't Like
Slow USB C
I was pleased to see two USB C ports on the Explorer 1000, but the fact that they can only output 15W is disappointing.
Sure, that's faster than the usual 12W from USB A ports, but they need to be faster.
They should have been at least 45W, ideally 60W or 100W. They are now only useful for charging small devices such as phones and tablets.
Because my Macbook can be charged via USB C, a 60W USB C PD port would have been ideal because it would have provided a more efficient charging port than the AC outlets.
Charging could have been faster
It's great that it has an MPPT charge controller and a fast wall charger, but it could have been faster.
The Explorer 1000 can be charged in 7 hours, which places it near the bottom of its competitors in terms of charging speed.
Furthermore, the 126W maximum solar input means that you can't even use all of the electricity generated by two SolarSaga 100W.
With solar panels, the Jackery Explorer 1000 can charge relatively quickly, but its competitors charge faster.
When I connect 200W of solar to my Yeti 1000 MPPT charge controller, it displays 143W. When I connect the same cable to the Explorer 1000, it displays an input of 118W.
Cannot Leave the Display On
The display button will turn on the display, but only for a short time. I wish it would stay turned on until I pressed the power button again.
My reasoning is that it can be difficult to read the display in the dark, and being able to leave it on would make it more usable in those situations.
Now I have to go check the battery level by pressing the button.
Go Camping (or Anywhere) With The Jackery Explorer 500 Power Station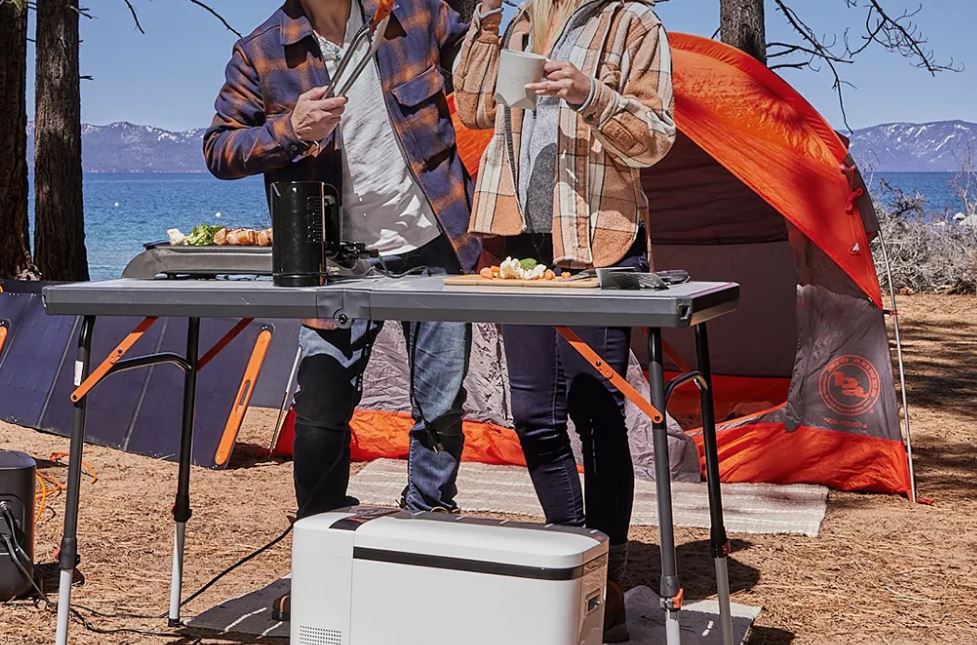 The Bottom Line
Jackery's power stations/solar generators are well-known for a reason. They have a lot of what people want in a portable package, and they work well.
The Explorer 1000 has more features that I like than dislike, and it's the ideal power station for many people.
When comparing it to the Explorer 500, I see the improvements Jackery has made, but I also see areas where it can improve with the next model, as is always the case with new technology.
It's a dependable power station, and as long as you understand its features and limitations, you'll be pleased with it.
It's not just for RVers; it's also a great option for a backup battery to keep at home in case the power goes out.
With a myriad of ports, a regulated 12V output, a screen that displays the most important information to allow you to monitor what's going on, and multiple charging options.
It's an excellent low-cost portable power station with plenty of battery capacity and power.
When combined with 200W of solar, it will keep your devices charged and powered without the need for gasoline, as a gas generator would.
Frequently Asked Questions
Is it possible to use the Jackery Explorer 1000 while it is charging?
Yes, you can use all ports while the Explorer is charging. It should be noted that only one of the input ports can be used for charging at the same time.
UPS Assistance?
It does not support true pass-through charging like a UPS does, but you can use it as a UPS as long as you keep the current to the battery below what the wall charger can generate.

Are there any solar panels included?
The Jackery Explorer power stations do not include solar panels.
How Can I Extend the Life of My Battery?
Jackery claims 500 cycles to 80% battery capacity, and one way to increase that is to keep the battery charged between 20% and 80%.
It's also a good idea to recharge lithium batteries as soon as possible and not leave a depleted battery for too long.
Jackery suggests keeping the batteries charged when storing it, but if you use it on a weekly basis, I would keep it in between 20-80% charged to extend the battery's life.
Is it possible to connect an RV or a camper to the Explorer 1000?
Yes, I did it myself using a 15A to 30A adapter (click to view on Amazon).
If you have a 50A RV or camper, you'll need a 15A to 50A adapter (click to view on Amazon).
There are different adapters depending on the cord or outlet on your camper, but it must be a regular 15A plug on the other side that you will plug into one of the Explorer 1000's AC outlets.
Remember that just because you plug a 50A trailer into a power outlet doesn't mean the outlet it's receiving power from can handle 50A.
Just like when you plug an RV into a 20A garage outlet, you need to know what you can and cannot run.
The Explorer's 1000W inverter will not power the air conditioner or microwave, but rather smaller devices such as TVs, chargers, CPAP machines, fans, and other similar devices.
Will it provide power to my device?
The wattage of most devices and appliances is indicated by stickers or power bricks. I use a Kill-A-Watt (click to view on Amazon) to be certain.
If it only gives you volts and amps, you can multiply them to get an estimate of wattage.
Because we know that the Jackery can output up to 1000 watts continuously, knowing how many watts a specific device uses will tell you whether it can be powered by the Explorer 1000 or not.
In general, 1000 watts is insufficient to power a microwave, air conditioner, or large space heaters.
Jackery Explorer 1000 Best Prices