Power Unleashed: The Jackery Explorer 2000 Plus - Your Ultimate Portable Energy Solution
by Bill Davis, updated October 27, 2023
With a 2060 watt-hour battery capacity, the Jackery Explorer 2000 portable power station is a versatile solution for both indoor and outdoor power needs. It has a compact design and various output options, including multiple AC outlets, USB-C, and USB-A ports, catering to a wide range of devices and appliances. The Jackery Explorer 2000 Plus is noted for its efficiency and the ability to power appliances such as refrigerators, heaters, and more, making it an ideal choice for outdoor adventures, emergency backup, or off-grid living as well as its reliability during extended power outages. The power station's LCD display and mobile app monitoring add to its user-friendly appeal, making it an impressive portable power solution for various applications.
Most of our OnGuard customers use this unit either for home backup (as an alternative to a standby home generator) or extended boondocking due to its expansion capabilities.
Why Consider the Jackery 2000 Plus?
The Jackery 2000 Plus is a versatile and reliable power station that caters to emergency power needs, off-grid adventures, and situations where a high-capacity portable power source is required.
High Capacity: The 2048-watt-hour battery gives a lot of power to many electronics and machines.
Flexibility: It works with many devices because it has many output ports, such as AC, USB, and DC choices. This makes it great for use both inside and outside.
Emergency Power Backup: It gives you a reliable source of backup power during power outages so that your important gadgets can still work.
Solar Charging: It's eco-friendly and works off the grid because it can be charged by solar panels.
Easy to use: The LCD screen and mobile app monitoring make it easier for users to handle and manage their devices.
Durability: It was made to last and be portable, so it can handle a wide range of weather conditions.
Click Here to Check Out the Jackery 2000 Plus Now!
Key Features
2042Wh (watt-hour) capacity - enough to power a variety of devices for longer periods of time
2000W power output capacity - can power power tools, refrigerators and small air conditioners, up to 6000W in parallel connection
2 hour charging via solar panels or AC power
Multiple charging ports including USB, AC outlets and DC port to allow charging of many devices at the same time
Safety features including overload protection, short circuit protection and overvoltage protection.
5 year warranty
Up to 5 additional battery packs can be added to expland capacity of 2-24 kWh perfect for large appliances and off grid applications.
Solar panel charging
Digital display monitor shows current battery level, power output and input.
Jackery 2000 Plus Pros and Cons
Jackery 2000 Plus Pluses
Fast charging speed
Expandable power capacity
Reliable home backup and off-grid power supply
Runs high-draw tools and appliances
Simple to monitor and operate away from home with the WiFi connected app
Significantly updated from previous lithium ion models
LFP battery technology improves cycle life and longevity
Ideally suited for frequent cycling and heavy usage
Built in wheels and handle for easy portability
30A RV outlet for powering AC of other high draw devices
24kWh capacity with additional battery packs
Jackery 2000 Plus Minuses
Must sign for delivery with unusually long delivery window
Some users have difficulty connecting units in parallel
Some users report poor customer service
Solar charging limited by proprietary connectors
Weight of unit can be limiting
May be priced higher than competitors' units if no promotion in effect
Pricing
The basic Jackery 2000 Plus unit has a MSRP of $2,199.00 as of the date of this post. To get the very best price, check out the Jackery main site using the link below. Promotions are frequent and substantial. As of today, there is a 12% discount off the MSRP, and as noted below, there are rebates of up to almost $1600 depending on the unit and configuration you choose. Black Friday and other seasonal promos can also be substantial for this unit which is one of the newer models in the Jackery line.
You can also avail yourself of one the kits which combine this unit with add-ons to expand the capabilities of the 2000 Plus Portable Power Station.  The basic unit, however, is more than enough power for most users for a temporary power or short-term camping situation.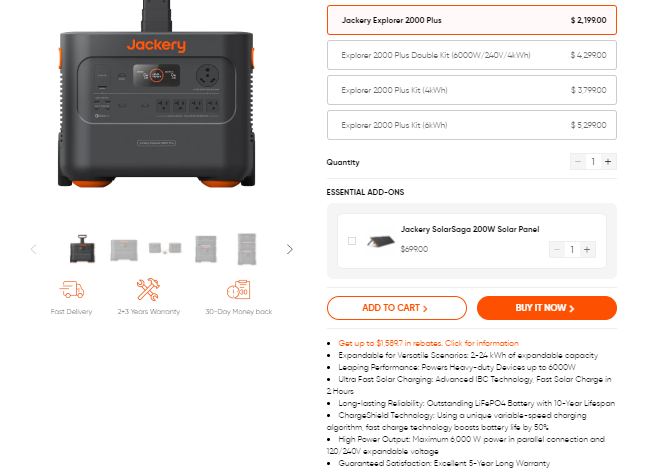 Click Here to Check Out the Jackery 2000 Plus Now!
You might want to know about:
⇒The expandable modular design of Jackery Explorer 2000 Plus, which allows you to add up to five battery packs to each Explorer 2000 Plus to take your total power all the way up to 12 kWh, and you can join two for a grand total of 24 kWh.
⇒The heavy and bulky nature of Jackery Explorer 2000 Plus, weighing 61.5 pounds.
⇒The loads of connection options available on Jackery Explorer 2000 Plus, including three AC outlets (the US version has five), a car port (12 V, 10 A), two USB-A (18 W), and two USB-C (100 W) ports.
⇒The DC extension port on the back for attaching battery packs, two DC inputs for solar panels, and an AC input for charging from the mains.
⇒The display on Jackery Explorer 2000 Plus provides all the pertinent info, including remaining battery percentage; watts in and out; remaining battery time estimate at this wattage level; and indicators for connectivity, modes, charging, and temperature warnings.
You may also be interested in: The Jackery Explorer 2000 Pro has been making waves in the world of portable power stations over the past few years, and it's easy to see why input power. As a solar generator and battery pack in one, this versatile unit combines remarkable battery life with high wattage capacity to power a wide range of devices and appliances. Whether you're dealing with a power outage at home or need a reliable source of energy on your road trips, the Explorer 2000 Pro has got you covered for performance for different devices or device.
This test unit from Jackery boasts three AC outlets ac ports, making it easy to plug in multiple appliances, power tools like an electric drill, or various other devices simultaneously. Its numerous connection ports allow for flexibility in recharging – whether it's through an AC input, car port, or solar panels, you can recharge the batteries in several hours. With the Jackery app, you can monitor your power station's charge cycles and even set it to a quiet charging mode for less intrusive use. plugged Usb c.
The Explorer 2000 Pro stands out with its ability to support devices with different wattage requirements, thanks to the three AC outlets. charge directly You can plug in extension cords, appliances, and more directly to the unit, keeping you recharged and connected even when you're off the grid for two hours. surge carry system access cable The quick charging feature ensures your cables devices are ready to go in no time, while a fully charged unit provides ample power for several hours of use. It's the perfect blend of convenience and reliability for those in need of a robust portable power solution appliance.