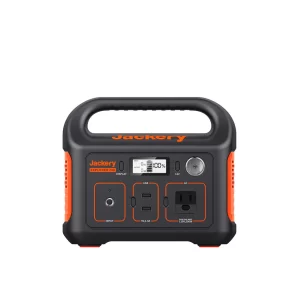 In today's increasingly mobile world, reliable power sources are a necessity. Whether you're camping in the wilderness, working remotely, or facing a sudden power outage, the Jackery 240 Power Station promises to be your ultimate companion. This portable power station offers a convenient and eco-friendly way to keep your devices charged and your small appliances running. In this comprehensive guide, we'll explore the ins and outs of the Jackery 240 Power Station and help you understand why it's a game-changer in the world of portable power solutions.
1. How to Use the Jackery 240 Power Station
Unboxing and Setup: The Jackery 240 arrives neatly packaged with the power station, AC adapter, car charger cable, and user manual. Setting it up is a breeze—simply plug it in to charge or use the optional solar panel accessory for eco-friendly recharging.
Charging the Power Station: You can charge the Jackery 240 via a standard wall outlet, your car's 12V socket, or a compatible solar panel. Its versatile input options make it suitable for any situation.
Output Ports and How to Connect Devices: The power station features multiple output options, including AC outlets, USB ports, and a 12V carport. This allows you to connect a wide range of devices, from smartphones and laptops to mini-fridges and small power tools.
Monitoring Battery Life: The built-in LED display provides real-time information about the battery's status, including the remaining capacity and input/output power. This ensures you're always aware of your power usage.
Recharging the Power Station: Depending on your chosen method, recharging the Jackery 240 can take a few hours to a full day. Solar panel recharging is an excellent eco-friendly option for extended outdoor adventures.
2. Best Uses for the Jackery 240 Power Station
Outdoor Adventures: Camping, Hiking, and RVing: The Jackery 240 is tailor-made for outdoor enthusiasts. It can power your camping lights, portable stoves, and even a small electric heater during chilly nights. Its compact size ensures it won't take up much space in your RV or camping gear.
Emergency Preparedness: When the lights go out due to storms or other emergencies, the Jackery 240 becomes a reliable backup power source. Keep your essential devices charged and your home appliances running smoothly.
Remote Work and Off-Grid Living: For remote workers and off-grid enthusiasts, this power station is a lifeline. It can power your laptop, smartphone, and other essential devices, allowing you to stay connected no matter where you are.
Outdoor Events and Tailgating: Take your outdoor parties and tailgating to the next level with the Jackery 240. Use it to run speakers, charge devices, and power small appliances like blenders and grills.
Charging Small Appliances: The Jackery 240 can handle various small appliances, making it perfect for short-term power outages or off-grid living. You can run a mini-fridge, electric fan, or even a CPAP machine.
3. Comparison with Other Jackery Models
Jackery 160 vs. Jackery 240 vs. Jackery 500: The Jackery 240 strikes a balance between the smaller Jackery 160 and the more powerful Jackery 500. It offers more capacity than the 160 while remaining more portable than the 500. We delve into the specifics of each model, helping you choose the right one for your needs.
Power Output and Capacity: We compare the Jackery 240's power output and capacity to its siblings, highlighting the scenarios where it outshines them.
Size and Portability: The physical dimensions of the Jackery 240 are assessed, along with its portability features, such as a comfortable handle for easy transportation.
Run Times and Recharge Times: Learn about the expected run times for common devices and appliances when using the Jackery 240. We also detail how long it takes to recharge the power station through various methods.
4. Competing Power Stations: How Does the Jackery 240 Stack Up?
Goal Zero Yeti 200X: We compare the Jackery 240 to Goal Zero's Yeti 200X, highlighting the differences in capacity, price, and overall performance. Read more....
Anker Powerhouse 200: Explore how the Anker Powerhouse 200 measures up against the Jackery 240, including their respective features and power delivery. Our analysis is here...
EcoFlow River 600: A detailed comparison between the Jackery 240 and the EcoFlow River 600, examining their power capabilities, recharging options, and price points. Learn more...
Bluetti AC50S: Discover how the Jackery 240 differs from the Bluetti AC50S in terms of power output, compatibility, and design. Our comparison here...
Rockpals 300W: Our analysis includes the Jackery 240 and the Rockpals 300W, weighing their strengths and weaknesses in various scenarios.
5. Why Choose the Jackery 240 Power Station
Portability and Lightweight Design: One of the standout features of the Jackery 240 is its portability. This makes it an ideal choice for users on the go.
Clean and Silent Power Source: Compared to gas generators, the Jackery 240 provides clean and quiet power, with no emissions or noise pollution.
Versatile Output Options: The range of output ports ensures that the Jackery 240 can accommodate multiple devices and appliances, making it incredibly versatile.
User-Friendly Interface: There is an intuitive LED display and user-friendly interface, making it accessible to users of all technical levels.
Reliable and Trusted Brand: Jackery's reputation for quality and customer satisfaction is legend, giving you peace of mind in your purchase decision.