The Jackery Explorer 500 Portable Power Station: Technical Information And Review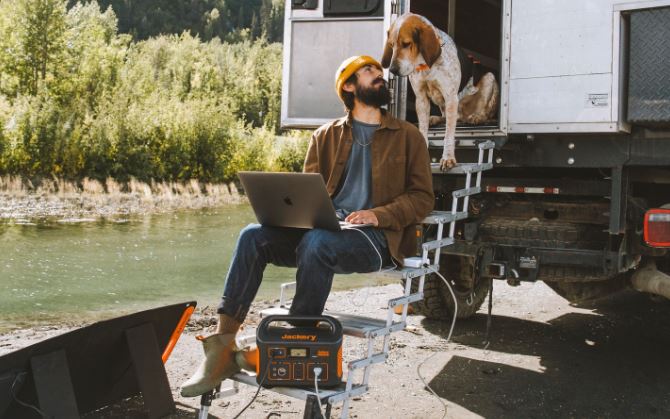 Go Camping (or Anywhere) With The Jackery Explorer 500 Power Station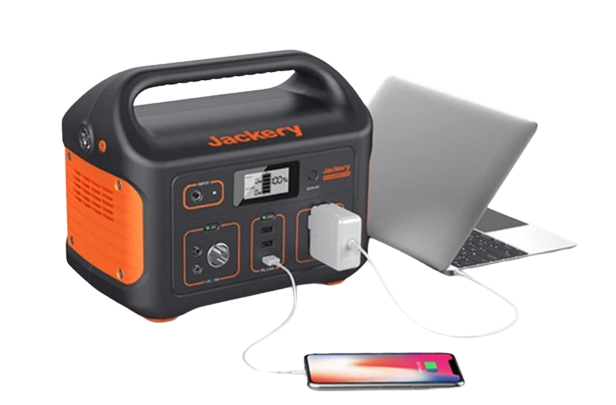 They're popular among outdoor enthusiasts who go camping and need a way to charge their smartphones as well as power electronics such as CPAP machines, TVs, computers, and lights.
Solar panels can be used to charge your Jackery.
I travel part-time in my travel trailer and rely on portable power stations and solar panels to work online and keep connected every day of the year.
Portable power stations are also useful to have at home in case of an emergency. Power outages occur, so keeping a power station with a solar panel at home is a simple way to be prepared.
This article is about the Jackery Explorer 500, which is one of the company's most popular power stations.
It's powerful enough to power TVs, laptops, and CPAP machines, and as we'll show you, you can even connect your entire RV into it to power your camper's outlets.
Let's start with a look at the Explorer 500's primary features, then discuss the pros and cons of it after using it daily last summer.
Jackery 500 Features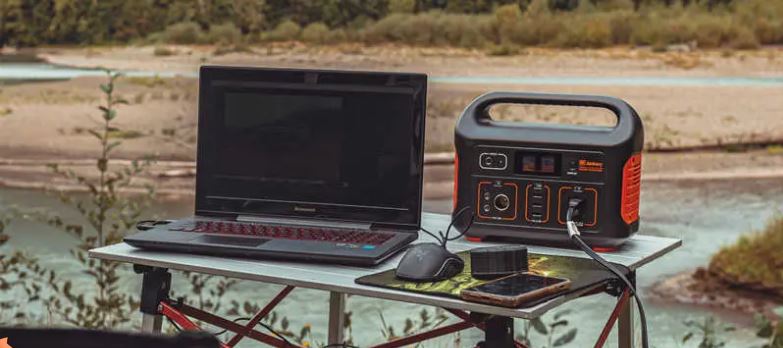 A portable power station is essentially a box that contains a battery, an inverter that converts 12V DC electricity to 120V AC power, and a solar charge controller.
There's more to it, but they are the key components found on nearly every portable power station in the marketplace.
If you do a lot of boondocking/dry camping, a portable power station can replace your gas generator.
When looking at a power station's characteristics, you'll normally notice two key numbers.
These two figures for the Explorer 500 are 518Wh and 500W.
The first is the battery capacity measured in watt-hours.
The second factor is the inverter's power, or how many watts the power station's AC outlet can consistently supply.
Battery Capacity
Starting with the battery, the Jackery Explorer 500 has a capacity of 518 watt-hours. This suggests that a 50W gadget can be powered for nearly nine hours (518/50*0.85=8.81 hours). A device rated at 50W consumes 50 watt-hours every hour.
We multiply by 0.85 because the inverter that converts 12V DC electricity to 120V AC power is only around 85% efficient. We were able to draw 445 watt-hours from the AC outlet in just over three hours, demonstrating an 86% inverter efficiency.
If you know how many watts your gadget consumes, you can perform a similar calculation to the one we did above to determine how long the Explorer 500 can operate it.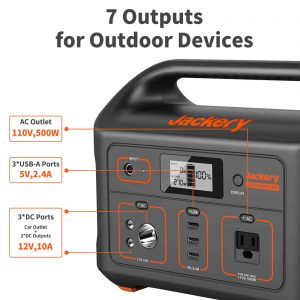 The Inverter/AC Outlet
A 500W inverter rating means that the front AC outlet can constantly output up to 500 watts of power. There is only one AC outlet, however you can use a power strip to power multiple devices at once as long as you don't over the 500W limit.
The inverter is a pure sine wave inverter that will safely power sensitive gadgets. We don't have anything that requires exactly 500W, but we were able to draw 450-470W from an AC outlet for about an hour. It demonstrates that the inverter is as powerful as Jackery claims. This causes the fans to spin at full speed.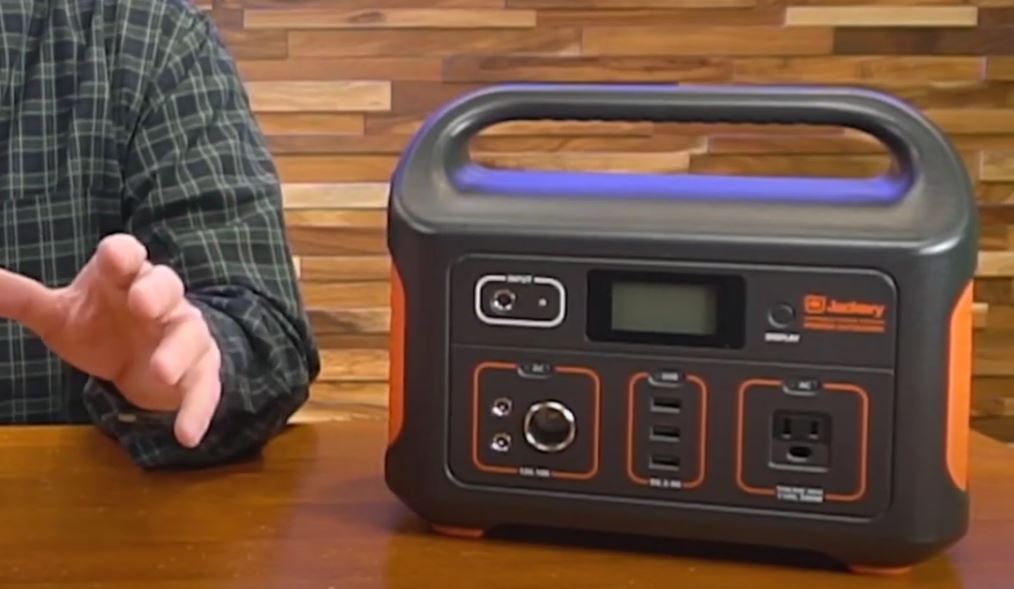 Ports
There are three USB A ports with 5V, 2.4A ratings next to the AC outlet (12W). These USB connections can charge portable gadgets such as phones, speakers, tablets, and lights quickly. I was able to extract the rated 12W from the USB ports.
There are three DC ports as well, one of which is a regulated 12V cigarette lighter port. To get the most watt-hours out of a portable power station, use the DC or USB connections whenever possible because they will power your gadgets the most efficiently.
Power your devices via the AC, DC, or USB ports. Because the 12V port is controlled, the Explorer 500 is an excellent power station for running a 12V fridge/freezer.
It will maintain a constant voltage till the battery dies.
The Display
The Jackery's panel displays input and output watts, the percentage state of charge, and battery bars.
A button next to the display activates the lighted screen, making it easier to read at night.
The display makes it easy to monitor power usage. During the day, the screen is easy to read outside, even in bright sunlight, but difficult to read indoors without turning on the backlight.
Charging/Solar Capabilities
The Explorer 500 can be charged in three ways. With the included wall charger, the supplied auto charger, or solar panels. You might also charge the battery with the provided wall charger using a gas generator.
An 8mm DC port serves as the input port.
As a result, it is compatible with a wide range of portable solar panels on the market.
Pair the Jackery Explorer 500 with a solar panel and you can stay powered for as long as you need. The Explorer 500 charges at 81W when using the provided wall charger, taking 6.5 hours from 0 to 100% in my test.
The car charger takes roughly 13 hours to charge the Explorer between 35-45W.
The greatest input wattage we saw when using solar panels, regardless of how many panels we used, was 67W.
So charging with simply solar panels took approximately 8 hours from empty to full.
It's worth noting that my usage revealed that the Explorer 500 can charge faster than Jackery claims. Your results may vary.
Flashlight
On the side of the Jackery, there is a built-in flashlight that can be activated by pressing a button.
For emergencies, it has an SOS mode.
Included In The Box
Jackery includes both a wall charger and a car charger.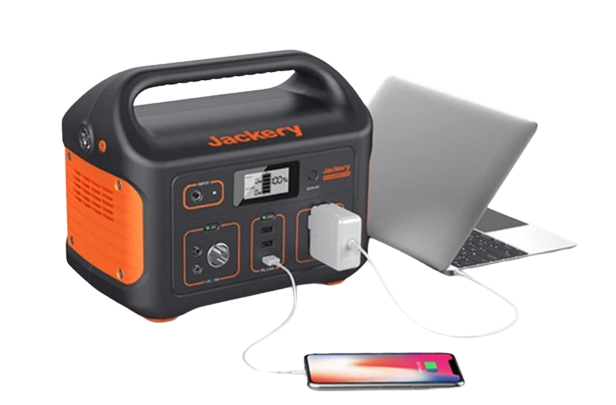 Go Camping (or Anywhere) With The Jackery Explorer 500 Power Station
Latest Review Of The Jackery Explorer 500
The Explorer 500 is a worthwhile piece of equipment for a variety of reasons and uses. It is not only strong and portable, but it also features a large battery capacity and the connectors that most people look for in a portable power station.
If you're going camping and need to charge phones, tablets, and a TV for a few of hours, I have no doubt it will last the entire weekend. That is what makes it an excellent power station for the majority of individuals.
The Portability
For how strong it is, it is an extremely portable power station. It weighs slightly more than 13 pounds but has a battery capacity of 500 watt-hours and a 500W inverter.
Because of its portability, it is simple to transport and use anywhere you need it. Put it in a tent or next to your RV bed to power your CPAP or TV. Not every power station is as light and portable.
The top handle does take up more space when storing it, but with a sturdy handle like this, it's not as annoying to deal with as other folding handles may be.
The Inverter
The huge 500W inverter allows you to power large equipment like a TV and a gaming console simultaneously. It will not power heaters, air conditioners, or coffee makers, but it will power tiny kitchen appliances such as whisks and mini blenders.
I had no trouble powering my computers, TV, Playstation 4, or Nintendo Switch. It even powered our vacation trailer's refrigerator. I was able to run my 32-inch TV and Playstation 4 for about three hours while playing a game. It was drawing between 150 and 170 watts.
Because each port type has its own on/off button, it's really simple to operate and you'll always know what's powered and what isn't.
Solar Charging
The ability to charge a battery using solar panels is liberating, and it is one of the main reasons I advocate power stations for campers.
The Explorer 500 can be charged in less than 8 hours using solar panels, and because the battery may be used while charging, you can work outside on a laptop all day.
A 100W solar panel will recharge the Explorer 500 in a full day of sun.
The Display
I wish every power station maker would do what Jackery has done.
That is, add a display that shows input/output watts as well as the % state of charge. In my opinion, it is the most useful information.
The Devil is in the Details
Ports
The Explorer 500's ports are useful, but there aren't enough of them.
Because the inverter is so strong, I'd prefer to have at least two AC outlets. To power more than one 110/120V gadget, I now need to utilize a power strip.
It also needs a USB C PD port so I can charge the Explorer battery with a USB C PD charger or power my USB C devices with it.
The Backlit Screen
The screen contains all of the information I require, but it is difficult to read in the dark, and the screen only illuminates for a few seconds when I press the display-button.
I'm not always close to the power station, so having to trek over just to check the charge level is inconvenient.
I hope pressing the button would keep the backlit panel lit until I pressed the button to turn it off.
If it's dark in my trailer or outside, I can't see the battery from more than 5 feet away.
The screen is easy to read in the dark when the backlight is on, but it turns off after a couple of seconds.
It's a minor point, but not knowing the state of charge without pressing the button has been inconvenient.
Another issue is how difficult it is to determine what ports are active when using the Jackery outside in the sun.
The little lights around the buttons are insufficiently bright. This isn't a problem at night or inside.
Solar Capabilities/PWM Charge Controller
It would have been ideal if the Jackery could handle at least 100W of solar input and be charged in under six hours using solar panels. Also, instead of the built-in PWM charge controller, an MPPT charge controller would have made charging using solar panels much more efficient.
But, given that the new Explorer 1000 has an MPPT charge controller, I'm sure we'll see that in the next version.
Fans
Fans on every portable power station with an inverter will kick on to keep the inverter cool. The Explorer 500's fans are loud and can be irritating if you're watching TV while the Explorer is close. However, it is still quieter than a gas generator.
Durability
The Jackery Explorer 500 is not waterproof, but it appears to be highly sturdy for its size.
It has a plastic chassis, so it's not something you should throw around or store heavy stuff on, but I don't feel the need to set it down and delicately pick it up. The fans on the side aren't particularly well-protected, and if used outdoors in dusty environments, this could become an issue over time.
Because the handle is firm and cannot be folded away, it will not easily break or become less trustworthy with time.
One thing Jackery should do is install anti-dust rubber plugs on all ports to keep them clean. Jackery sells a carrying case bag to better preserve it.
Portability
The Explorer 500's portability for the amount of power it delivers is one of its main selling features. It weighs 13.32 pounds, with dimensions of 11.84 by 7.59 by 9.2 inches, and is more portable than many comparable products.
The Jackery Explorer 500 is easy to bring along. It's not the type of battery you'd take on a hike, but it's a terrific alternative for tent-campers, emergency use, or RVers that's easy to carry and store.
The top's built-in stiff grip makes it simple to grab and transport.
Usability
It's a highly useful power station with all of its connectors, a very large battery, and an inverter that may be utilized in a variety of situations. It's an excellent camping companion that will keep your phone, laptop, drone, and speaker charged for a whole weekend before needing to be recharged.
When combined with a solar panel, you can remain out for as long as your food supplies last. Because it features three USB ports in addition to the AC and DC ports, you may charge up to five devices at once.
While the battery is charging, you can use the ports. So, if you have a 100W solar panel and a 60W laptop, you can charge the battery while charging the laptop as long as the sun is shining.
My inverter efficiency test yielded 86% efficiency, with 445 watt-hours drawn from the Explorer in just over three hours.
Go Camping (or Anywhere) With The Jackery Explorer 500 Power Station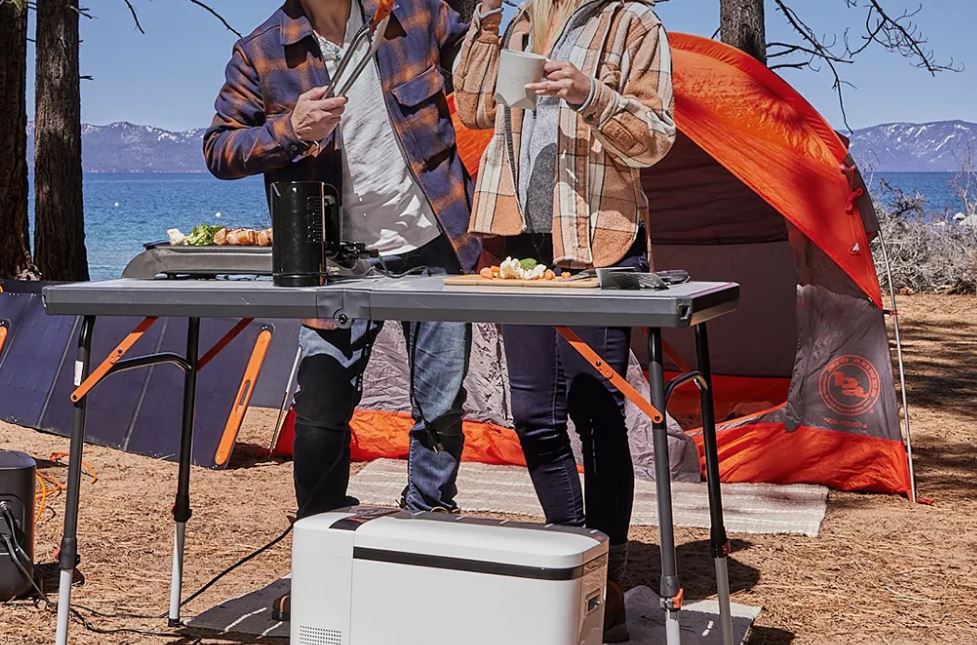 The Bottom Line
The Explorer 500 is a good choice for households that want a backup battery in case of a power outage. It's also ideal for weekend camping trips where you need to use a CPAP machine, laptop, or other tiny equipment
The Jackery Explorer 500 is a great portable power station for weekend-campers and travelers. Slow solar charging and a single AC outlet may limit RV travelers unless you know for certain that you don't need it to charge quickly or that you don't need to power more than one gadget at the same time.
I use two laptops for at least 8 hours a day each, therefore the Explorer 500 cannot keep up with our high power use. However, it is more than enough to run tiny electronics for a few hours a day or a CPAP machine at night.
For someone like myself, the larger Jackery Explorer 1000 would be a better fit. We recommend using the Explorer 500 in conjunction with a portable solar panel, such as the Jackery SolarSaga 100W.
They work right out of the box and will charge the battery in around 8 hours of sunlight.
Summary of My Experience with the Jackery 500
Specifications:
518Wh lithium battery capacity
500W continuous power, 1000W surge power
Weighs ~13 lbs
Dimensions 10.2 x 7.1 x 8.3 inches
Can charge via AC, solar, or 12V car outlet
Has 2 AC outlets, 2 USB-A ports, 1 USB-C port, 1 DC outlet
Unique Insights:
Used with 100W solar panel to charge
Couldn't directly connect solar panel due to proprietary Jackery port
Had to use low-powered 10W USB-C cable to charge from solar panel
User Experience and Impressions:
Used for powering fridge while camping
Worked well for maintaining fridge battery voltage
Easy to transport and set up
Solar charging was slow due to weather and limited connectivity
Optimal Uses:
Off-grid power for camping & RV adventures
Running appliances and lights off-grid
Backup power source for outages
Charging devices on-the-go
Additional Observations:
Performed well overall powering a fridge
Very portable and easy to transport
Proprietary solar charging port limits solar input options
Excellent built-in flashlight
Comparable to similar units like Goal Zero Yeti
Similar Products
As previously stated, Jackery sells power stations in a variety of sizes. There are Explorer 500 versions that are both smaller and larger than the Explorer 500.
The Explorer 160 includes a 167Wh battery and a 100W inverter that powers a single alternating current outlet. It also has two USB A ports, one USB C port, and one DC port.
The LCD displays the input and output watts, as well as the battery percentage and bars. This is enough to power a 50W gadget for over three hours.
The Explorer 240 is quite similar, but with a 240Wh battery capacity and a 200W inverter that powers the solitary outlet. There are two USB ports and one DC cigarette port. The screen displays input/output watts as well as the state of charge as a percentage and bars.
This would last roughly four hours and power a 50W gadget.
The largest Explorer power plant currently equipped with an MPPT solar charge controller. A battery capacity of 1002Wh, a 1000W inverter that powers three AC outlets, two USB C ports, two USB A ports, and a regulated 12V cigarette plug are all included.
The screen is the same as on the Explorer 500, featuring input/output watts and the percentage and bar state of charge.
It features two input ports, however only one of them can be utilized at once. This would provide around 17 hours of electricity to a 50W gadget.
Frequently Asked Questions About The Jackery Explorer 500
How Much Time Does It Take To Charge?
It takes 16 hours with the supplied auto charger, 9.5 hours with the Jackery SolarSaga 100W solar panel, and 7.5 hours with the included power charger, according to Jackery.
However, in my recent experience, it charged somewhat faster in every way.
Approximately 6.5 hours with a household charger, 8 hours with solar panels, and 13 hours with a car charger.
What Solar Panels Work With The Explorer 500?
An 8mm DC port serves as the input port. As a result, it is compatible with a wide range of portable solar panels on the market.
Jackery SolarSaga 60W, SolarSaga 100W, Rockpals 100W, and Goal Zero Boulder 100, for example.
Third-Party Solar Panels, Can They Be Used With Jackery Power Stations?
You'll need an adaptor like this to use third-party panels with MC4 connectors, such as the Renogy 100 solar panel.
With an MC4 Y branch, you may connect two 100W panels in tandem.
Because the DC port has a 12-30V input limit, you should not connect panels in series.
What is the Explorer 500 capable of?
It can power up to 500W of gadgets. TVs, CPAP machines, laptops, compact coolers, speakers, smokers, small blenders, and kitchen equipment are examples.
How Can I Extend the Life of My CPAP Machine When Using The Explorer 500?
Turn off the heater and humidity and connect the CPAP to one of the power station's DC connections.
I recommend experimenting with different pressure settings to determine which one will keep the CPAP running for at least a whole night.
How Long Will It Keep My Device Running?
The Explorer 500 has a 518 watt-hour battery capacity, therefore divide the number of watts used by your device by 518.
518/50, for example, equals 10.36 hours.
If you must use an AC outlet to power your gadget, consider the inverter efficiency, which is approximately 85%.
So 10.36*0.85 equals 8.81 hours. This provides us a more accurate estimate of what to expect.
The number of watts used by a certain device is frequently listed on the item, its power brick, or in the manual.
You can also use a Kill A Watt to track how many watts each device consumes.
If you power your devices using the DC or USB ports, you should expect a better efficiency rate of more than 95%.
What Is the Maximum Size of Solar Panel I Can Use?
The Explorer 500 has a 12-30V restriction, which means it cannot be used with panels that produce more over 30V.
Jackery recommends a 100W solar panel, but with an adapter like this, you can use a panel like the Renogy 160W or Newpowa 175W. (click to view on Amazon).
On cloudy days, employing a panel greater than 100W will result in a higher input.
Can I connect my RV or travel trailer to the Explorer 500?
Yes, because the inverter in the Explorer 500 is 500W/1000W surge watts, you can hook your camper into the Explorer's AC outlet with a Camco 15A to 30A or 15A to 50A.
Keep in mind that it has a maximum output of 500W, so you won't be able to run heavy appliances like the air conditioner or microwave, but it will power the furnace for a couple of hours.
It would also allow you to utilize the outlets in your RV or camper and charge the batteries in your RV.
It is evident that charging your RV batteries using another battery is not the most efficient method, but it works.

Is it capable of powering a coffee maker?
No, unless you can find a low-wattage electric coffee maker.
Does it include solar panels?
No, despite the fact that portable power stations are sometimes referred to as solar generators, they do not incorporate solar panels.
Can You Charge The Jackery Explorer With A Gas Generator?
Yes, if your gas generator has a 15V or 20V AC outlet, you can charge the battery with the Explorer's integrated wall charger.
Jackery Explorer 500 Best Prices